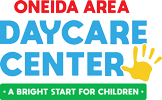 447 Sayles Street
Oneida NY 13421
(315) 363-0080
tap to call
Tuition Rates
5 days/Week
(Mon – Fri)
3 days/Week
(Mon, Wed, Fri)
2 days/Week
(Tue, Thu)

Infant Rooms


(6 wks – 18 mo)
$49/day


$245/week

$57/day


$171/3 days

$69/day


$138/2 days

Toddler Rooms


(18 – 36 mo)
$46/day


$230/week

$54/day


$162/3 days

$66/day


$132/2 days

Pre-School Rooms


(3 – 5 yr old)
$45/day


$225/week

$53/day


$159/3 days

$65/day


$130/2 days

Pre-K

(attending additional program set up through the Oneida City School District only)

$ 38/day


$190/week

School Age

Before and after
Full week (summer)
Full day
Half day
$130/week
$218 full week
$44 full day
$30 1/2 day
SUMMER: If it is necessary to drop enrollment for the summer months and parents wish to ensure enrollment in the program for the fall, they may pay three days tuition each week to hold their child's full-time slot for the following fall. OADCC will fill spots on a first come first serve basis based on the center's needs.
The rates listed above are to be paid weekly (Monday). Late payments (payments not made by the end of the week) are charged a $25.00 late fee. New registrants will be required to pay a one-time $30.00 registration fee. All exceptions to the above rates and days per week attending will be handled on a case-by-case basis. Tuition is required on a weekly basis if your child attends or not to hold your child's spot. A two week notice with payment is required before dis-enrolling. Please note that our rates are based on a calendar year which includes holidays and staff development days for our employees.
Tuition assistance is available through the Madison or Oneida County Department of Social Services. Further information is available in the office.
Family rates are available for families with 2 children attending FULL TIME (full day program / 5 days each week): a 10% discount of the LESSER tuition amount.
SICK/VACTATION TIME: FULL TIME children enrolled will receive 5 sick/vacation days per calendar year, PART TIME children will receive 2 or 3 sick/vacation days per calendar year (based on your part time status). These run on a calendar year basis and cannot be rolled over.
If your child is sick for more than 3 consecutive days they will need a physician's note stating that they are cleared to be at the daycare. If there is an extreme case or emergency, please contact the Executive Director.
School Age: Our School Age program has limited spots. OADCC is not a drop in program which means the children need to be registered in the program in order to take advantage of our services before & after school, ½ days, snow days, vacation days and early dismissal. If we have open spots on full vacation weeks (due to a cancellation of a full-time child), the spots will be on a first come first service basis, each child will need to be registered and approved by the Director prior. Please remember OADCC does the best it can to accommodate families, however, we are licensed by NYS OCFS for a certain number of children and cannot exceed capacity.