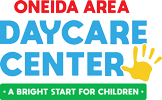 447 Sayles Street
Oneida NY 13421
(315) 363-0080
tap to call
Toddlers
Currently we have 3 Toddler Rooms:
Toddler 1: 18 months to 24 months
Toddler 2: 30 months to 36 months
Toddler 3: 24 months to 30 months
According to NYS Office of Children and Family Services Toddler ratio's are 1:5, every classroom has a certified Head Teacher and Assistant Teacher. All staff have a fingerprint and background check prior to being employed with OADCC.
We care for each child according to their individual temperament and encourage them in a visually inviting and stimulating environment through developmentally appropriate experiences and activities. Oneida Area Day Care Center understands that every child learns differently and through a variety of different learning centers and media we touch on every child's need. Each child's daily activities are documented (i.e. breakfast, lunch, snack, small and large motor skills, potty training, nap time and other daily developments).
We enjoy our home-cooked breakfast, lunch and snack family style. Each child has their own cot / mat for rest time. We assist each child in hand washing, tooth brushing and potty training and as they progress through our center they will work on their self-help skills. Our children are assessed every 3 months to be sure that they are on track developmentally in all the areas listed: Social/Emotional, Physical, Cognitive and Language.
At OADCC we believe that the smallest loving touches can make the biggest differences in a child's day away from home. All interactions are characterized by gentle, understanding and supportive responses. In the Toddler classrooms the staff have been educated in key techniques in observing and responding to sounds and attempts at communication and appreciate this as the beginning of language development. The staff model positive communication skills through stories, songs, activities and puppet plays. The Toddler Teachers are trained in the Creative Curriculum Strategies.
Toddler Classroom Schedule (general)
*6:30-7:45 Arrival and Exploration with friends
7:45-8:00 Washing Hands
8:00-8:45 Breakfast
8:45-9:30 Bathroom, hand washing, tooth brushing, table choices
9:30-9:45 Circle Time
9:45-10:15 Art and Craft, Sand and Water Table or project
10:15-11:00 Social Hall, bathroom and hand washing
11:00-11:45 Lunch
11:45-2:00 Nap
2:00-2:30 Bathroom, hand washing and quiet choices
2:30-3:00 Snack
3:00-4:00 Centers, outdoor / social hall time, or craft
4:00-4:30 Bathroom, stories and clean up
4:30-5:30 Free play with friends and parent pick up
view curriculum overview