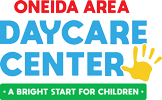 447 Sayles Street
Oneida NY 13421
(315) 363-0080
tap to call
About Oneida Area Daycare Center
The Oneida Area Daycare Center is a registered tax-exempt nonprofit organization under Section 501(c)(3) of the Internal Revenue Code. The Center is licensed by NYS Office of Children & Family Services to provide childcare and education and has been doing so since 1971 making it the oldest licensed daycare center in New York State.
Over the past 30 + years, OADCC has provided quality childcare to hundreds of local children. Currently at least 25% of our slots are designated for qualified low-income families. The OADCC also partners with the Madison County Early Learning Center, providing an inclusive toddler classroom. The Creative Curriculum by Teaching Strategies is used for the Infant/Toddler and Preschool programs. Our Preschool and Pre-K rooms have adopted some of the common core standards to ensure that our children are Pre-K and Kindergarten ready. Our School Age Enrichment Program allows children to participate in activities that build on their knowledge from school and provides new experiences for them to explore. We are also a BOCES teacher training organization allowing Early Childhood Education interns to participate in field experiences at our center.
Each employee has a fingerprint and background check performed prior to employment, as well as become CPR and First Aid certified. Each teacher and teacher assistant must have college credits in early childhood education, education or human services.